Coffee is the most beloved beverage in the world.  Their methods of brewing and ways of drinking vary from country to country and of course, there are disagreements as to which way is the best! Regardless of that, however, everyone agrees that there are few other things as good as enjoying a cup of fresh java. Especially if it is a java of the best Brazilian coffee brands!
There is a reason why Brazil is the world's largest coffee producer and has been the #1 coffee beans producer for over 150 years. All because it has some unique properties that make coffee from brazil – the best coffee in the world. And we're gonna discuss what makes Brazilian coffee the best, and what Brazilian coffee brands offer the most authentic experience.
Top 7 Best Brazilian Coffee Brands: Comparison Chart
| | | | | | |
| --- | --- | --- | --- | --- | --- |
| Brand | Type | Roast | Single Origin/Blend | Caffeine Content | Volume |
| Café Pilao | Ground | Medium | Blend | Caffeinated | 1.1 pound |
| Café do Ponto | Ground | Dark | Blend | Caffeinated | 1.1 pound |
| Agua Santa | Ground | Medium | Single origin | Caffeinated | 1.1 pound |
| Café Melitta | Ground | Medium | Blend | Caffeinated | 1.1 pound |
| Café 3 Coracoes | Ground | Dark | Blend | Caffeinated | 1.1 pound |
| Cafe Caboclo | Ground | Medium | Blend | Caffeinated | 1.1 pound |
| Cafe Iguacu | Instant | Medium | Blend | Caffeinated | 0.44 pounds |
Brazilian Coffee History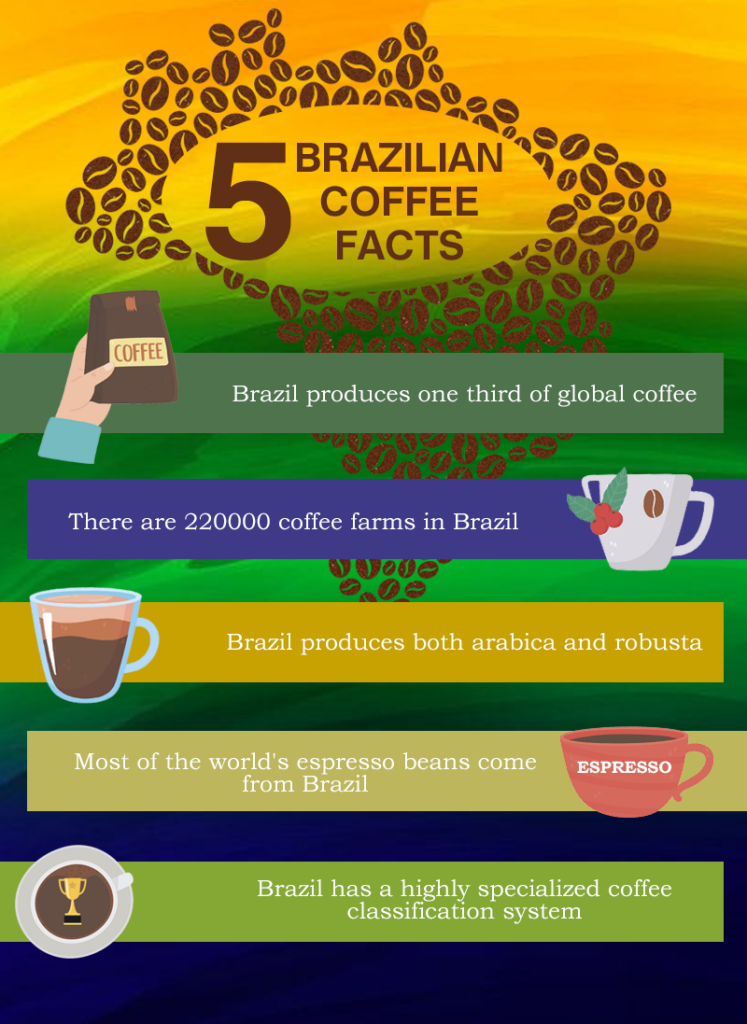 Brazil coffee is one of the most popular types. That is partially due to the fact that Brazil is among the larger producers in the world – making the best coffee beans for years. 
The first coffee was imported to Brazil from French Guiana and the beginning of the 18th century. More precisely, the legend says that Portuguese colonists wanted to have coffee on the new land but that the authorities of French Guiana didn't want to make a trade. Therefore, a sergeant major Francisco de Melo Plaheta arrived to settle a land dispute between Dutch Guiana and French Guiana smuggled and planted the first coffee seeds in Para in northeastern Brazil.  The beans thrived very quickly and began spreading to the south.
The production of Brazilian coffee beans was developing rapidly and so by 1770 crops were grown even in Rio de Janeiro and by the 1830s Brazil produced nearly 30% of the world's coffee. Throughout the 19th-century coffee growth of coffee beans became massive in Brazil and brought enormous wealth to plantation owners.  However, when slavery was abolished at the end of the 19th century, their luck changed. The final blow hit them in 1962 when Brazil entered the International Coffee Agreement that regulated prices and quotas for dominant coffee production. Finally, this ended in 1989 and 1990 and Brazil deregulated the coffee industry which now made it the world's number one Arabica beans producer.
Brazilian Coffee General Characteristics 
If you are a coffee aficionado you probably know how to recognize coffee beans grown in Brazil. But if you are not very familiar with Brazilian coffee, then you can easily identify it by some common characteristics:
Soft 
Nutty 
Low acidity 
Bittersweet
Flavor Profile
Brazilian coffee is often low in acidity, smooth, and has nutty and chocolate flavors.  Depending on different factors, such as type of soil, growth methods, e.t.c,  flavors can vary from sweet to bittersweet. Some of the higher quality beans can also have citrus and other fruity notes.
Brazilian Coffee Variety
Some people would think that Arabica is Arabica and there is nothing much to say there. But it is not so simple! Coffee varies, depending on a lot of factors: such as roasting method, preparation e.t.c. These determine the taste and strength of java. The most common coffee varieties are Bourbon, Catuai, Acaia, and Mundo Nuovo. 
Some will thrive in some regions better than others so it is momentous to know what variety is better for a specific type of soil. It is important to mention that even if coffee grows everywhere in Brazil, most of it comes from five states – Bahia, Espirito Santo, Minas Gerais, Parana, and Sao Paulo. So let's take a look at them in more detail.
Top Coffee Producing Regions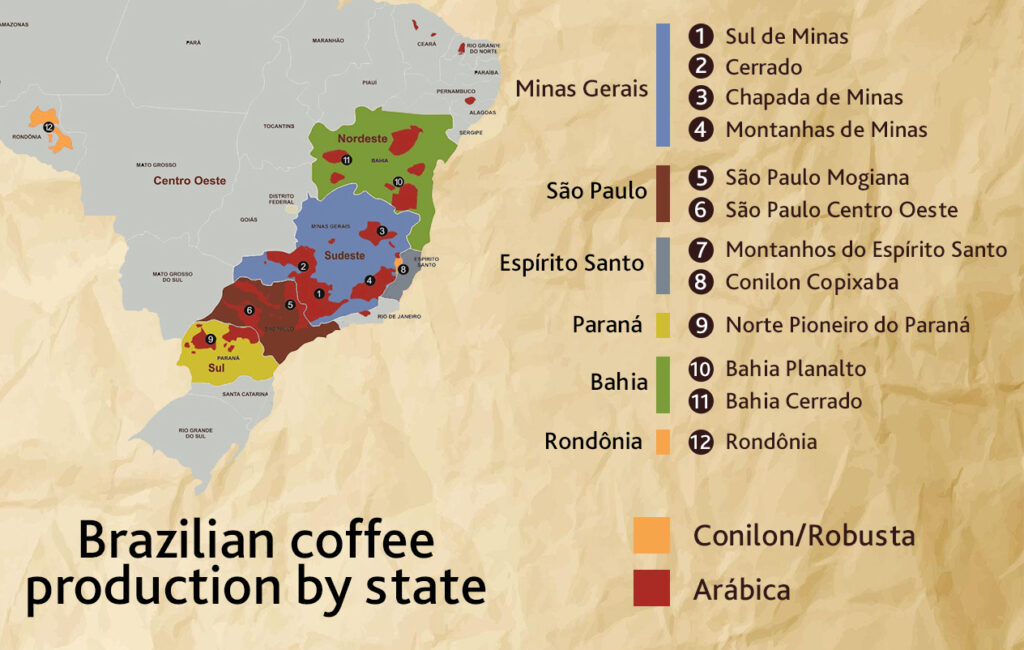 Minas Gerais
This is the largest coffee-growing state in Brazil and produces around half of the country's total coffee production. It is also the biggest producer of specialty coffee. In Minas Gerais, there are several coffee-producing regions – Sul de Minas, Cerrado de Minas, Chapada de Minas, and Matas de Minas. Each of these regions is popular for specific varieties.
Espirito Santo
It is the second coffee producer state in Brazil. Robusta is the main coffee type you can find here but there are also some specific varieties. The main regions are Montanhas do  Espirito Santo and Conilon Capixaba.
Bahia
Around 75% of bans grown in Bahia are Arabica. And here, two regions are specialized in production: Atlantico Baiano and Cerrado and Planalto da Bahia.
Parana 
Farmers in Norte Pionero do Parana are specialized to grow exclusively Arabica beans. There are plenty of high dense plantations with a high level of productivity. In another region Rondonia, we can find only Robusta.
Sao Paulo
One of the oldest coffee-growing regions in Brazil. It is also the main export port. There are two regions where coffee grows: Sao Paulo – Mogiana and Centro Oeste de Sao Paulo.
Most Popular Brazilian Coffee Brands 
Café Pilao
This is a very popular Brazilian coffee that grows in Sul de Minas. It comes with a full-bodied, rich but at the same time simple aroma with medicinal notes that resemble chocolate a bit. Dominating notes are fermented fruits such as raisins or dried apricots.
Café do Ponto 
While creating our Brazilian coffee brands reviews, we found that this coffee is very widespread in the USA. Produced in Sao Paulo and Minas Gerais, this is one of the best Brazilian coffee brands, with quite a vibrant flavor. The final notes of the coffee are smooth and very delicious.
Brazil Santos Coffee
Otherwise known as Bourbon Santos. Depending on where the beans grow it can vary from medium to high-quality beans. Bourbon coffee often has a fruitier taste and thus can be more acidic. Some variations of this Brazilian coffee are lower in acidity because it comes from plantations that are not located too high.
Café Melitta  
For people who love strong-tasting beverages, this would be the best Brazilian coffee brand. This java is made by combining different beans to enhance the strength.  It is dark roasted, strong, and with intense flavor; many claim that it is the best Brazilian coffee.
Café Bom Dia
This is also one of the most popular and best-tasting coffee brands that many aficionados prefer all over the world.  This Brazilian coffee is freshly roasted, comes with full body and sweet complexity with citrus notes. Truly, one of the best Brazilian coffee brands that will make your experience 10 times better!
Other Notable Brands 
Café 3 Coracoes is finely ground, fully roasted beans, grown, and harvested in Brazil.  It comes with an intense, full-bodied taste. This one of the best Brazilian coffee brands is popular among those who love strong tasting coffee.
Santa Clara is organically grown and produced coffee. It is roasted and ground to make Americano and espresso. The taste is rich and strong. 
Cafe Caboclo is the most popular brand in Brazil. Brazilian people know how to recognize a good coffee when they see it so we would say there are plenty of reasons for this local popularity. It is a finely ground and medium roasted one.
Tips to Choose Brazilian Coffee
Roast: This of course depends entirely on your preference. Some people prefer medium or light roast such as the best Colombian coffee, but Brazilian beans mainly offer dark roast that has a sort of chocolate-like flavor. Of course, there are also lighter versions, it just isn't always simple to find them.
Bag size: It is good if you can assess how many cups you drink per week. This way you can decide what bag size you need. Just so that you wouldn't have to wake up and find out that all your Brazilian coffee is gone. As for sizing, Brazilian beans often come in two bag sizes – a 2 or 5-pound bag.
Flavor: The flavor is the most important reason to look for a specific coffee variety. While creating Brazilian coffee brand reviews, we found that if you are looking for a higher quality floral flavor you should opt for Geisha coffee, for example. On the other hand, if you are after high acidity then you could be thrilled about something like Catuai.
Whole Bean or Grounds: It is always better to buy beans and grind them yourself before brewing. We recommend that you do this because ground coffee generally starts to lose the taste of 15 minutes after you open the bag. If you prefer ground beans then it is better to keep them in an airtight container.
How Should I Brew Brazilian Coffee? 
A lot of people are wondering whether Brazilian coffee brands are good for specific ways of brewing. The most common way of brewing is espresso. Besides espresso, you can also brew these types of coffee in the French press. Another popular way is cold brew which is exceptionally popular in summer.
Conclusion 
And that's about all we wanted to share about the Brazilian coffee! As you can see, there are so many varieties, that you are bound to find something that you'll love. So hopefully you'll find only the best Brazilian coffee brands, that will make even the foggy Monday morning a lot brighter and cheerful. So good luck finding only the best coffee brands 2023, and make sure to let us know which brand you would recommend!