What's the first thing that comes to your mind when you hear Italian coffee? Probably their incredible coffee culture, strong espresso, that people of this beautiful country drink instantly, with one gulp. Or maybe it is their breathtaking cappuccinos and lattes, or huge influence on the coffee industry of today?
Types Of Coffee In Italy
Yes, as a matter of fact, we owe Italy all our favorite and popular coffee types – espresso, macchiato, cappuccino and so many more!  So being a creator of so many amazing beverages, it's obvious that there would be so many Italian coffee brands, offering only the best coffee. And we're gonna take a look at some of the most prominent and best Italian coffee brands 2023, and what you need to know to find one!
| | | | | | | |
| --- | --- | --- | --- | --- | --- | --- |
| Brand | Type | Roast | Flavor Notes | Caffeine Content | Volume | Price |
| Lavazza | Whole beans | Medium | Hazelnut, brown sugar | Caffeinated | 2.2 pounds | Check Price |
| Illy | Ground | Medium | Caramel, chocolate | Caffeinated | 8.8 oz | Check Price |
| Caffe Vergnano | Coffee pods | Medium | Citrus, flowers | Caffeinated (2%) | 50 capsules | Check Price |
| Kimbo | Coffee pods | Medium-dark | Creamy | Caffeinated | 8.8 oz | Check Price |
| Segafredo | Whole beans | Medium | Spicy | Caffeinated | 2.2 pounds | Check Price |
| Moak | Whole beans | Medium | Flowers, vanilla, chocolate, citrus fruits, honey, papaya, mango | Caffeinated | 2.2 pounds | Check Price |
| Grande Italia | Whole beans | Dark | n/a | Caffeinated | 2 pounds | Check Price |
Italian Coffee History and Market Overview
Originally, Christians opposed this drink in Italy, and some even tried to ask the Pope to burn it, since they referred to it as "devil's drink". However, with time, people started to embrace the divine taste of this drink, and even established coffee houses; the first one appeared in Venice in 1645. And as of now, Italy is one of the leading exporters of this beverage, having a huge influence on a coffee market. In fact, the market of this beverage grows each year by 5.8%, and the average coffee consumption is over 4 kg (8,8 lbs) in just the USA. 
Coffee – the favorite drink of the civilized world.

Thomas Jefferson
In order to make only the best Italian coffee, the manufacturers use Arabica, since the tropical areas of Italy is a perfect place for this plant to grow. As for some of the Italian coffee brands, some of the leading companies in Italy are Lavazza and Illy. They export it to the United States and Europe. In 2020, the revenue reached $10,212m and continues to grow every year.
Best Italian Coffee Brands
Some of the most popular Italian coffee brands are:
Lavazza
Lavazza has over 125 years of history. It was created by Luigi Lavazza, and it is still considered one of the best Italian coffee brands. The coffee of the Lavazza brand has an aroma of dried fruit and a note of chocolate, which is why so many people adore it.
Lavazza is a combination of Robusta and Arabica, and these coffee beans grow in Turin.
Illy
There's no doubt that Illy is one of the famous Italian coffee brands existing in the market today. This Italian coffee brand was founded by Francesco Illy in 1963. He had earlier invented Illetta in 1963. This invention became the beginning of espresso machines, which improved the preparation of this drink.
Franchesco had an innovative way of packaging, which focused on pressurization. This helped them export Illiy to Holland and Sweden during the 1940s.
The Illycafe has currently launched several blends with single-origin coffee that originated from Columbia, Guatemala, India, Costa Rica, and Brazil. 
While Illy vs Lavazza is still an ongoing debate, we still can't deny that both of these Italian coffee brands are best in their own way.
Caffe Vergnano
This wouldn't be a full famous Italian coffee names review if we didn't mention Caffe Vergnano. This is one of the oldest Italian coffee brands, founded by the Vergnano family in 1882. And for 139 years this company delivers one of the most popular coffee in Italy.
Kimbo
Another best Italian roast coffee that seems to grow so fast in the world market is Kimbo. This is a popular company in northern Italy. The beans used to make this brand come from Brazil.
Since this brand has spread to various parts of the world, you can find Kimbo in Paris, London, and Johannesburg, among other areas. In growing these coffee plants, all steps required are followed and also undergo various quality checks.
Segafredo
Segafredo is a brand developed by Massimo Zanetti Beverage Group. And with its flavor and taste, it has conquered the international markets. It is undisputed leading espresso coffee from Italy and other parts of the world. The mission of this Italian coffee brand is to spread the culture, taste, and offer a product of the best quality.
Other Italian Coffee Companies to Look For
There are also so many other best Italian coffee brands that you can check out. Like:
Mocambo is a German-Italian best coffee that has been in the market for over 30 years. It's among the best brands due to its freshness, quality, rich taste, and delicious aroma.
Caffe Manaresi got in the market in 1898 and has successfully stood up among the Italian espresso coffee brands. What makes this brand stand out is their unique passion for roasting is what makes them exceptional.
Brasilaina is a top-rated product that was started by Grandfather Carlo Govoni in 1948. He started with a small shop in Ferrara, which later grew into one of the best Italian coffee companies.
Moak roasts coffee and distributes it. It has been operating since 1967 in Italy and has reached international markets too. While collecting information for our Italian coffee brands review, we've noticed that a lot of people adore this Italian coffee brand for the incredible taste of the coffee – sweet with a natural fruity aroma.
FAQs about Best Italian Coffee Brands
And now, let's take a look at some of the most common questions regarding coffee:
Is Italian coffee grown in Italy?
Most Italian espresso coffee brands come from Italy, but the beans come from other countries.
Could all types of Italian Coffee be espresso roast?
No. There is a specific type of espresso roast called Italian roast. Such a name makes people assume that all Italian beverages are Italian roasts. This isn't true. You can get this drink in dark roast range and medium range.
What could be the best method of brewing?
You can brew an Italian coffee with the help of the stovetop percolator or espresso machine. The brewing methods involve various amounts of pressure, which determines how delicious the cream is going to taste. 
You might want to try the pour-over method on the first couple of cups. This is the best method that lets you play with the grind size till you get your best setting.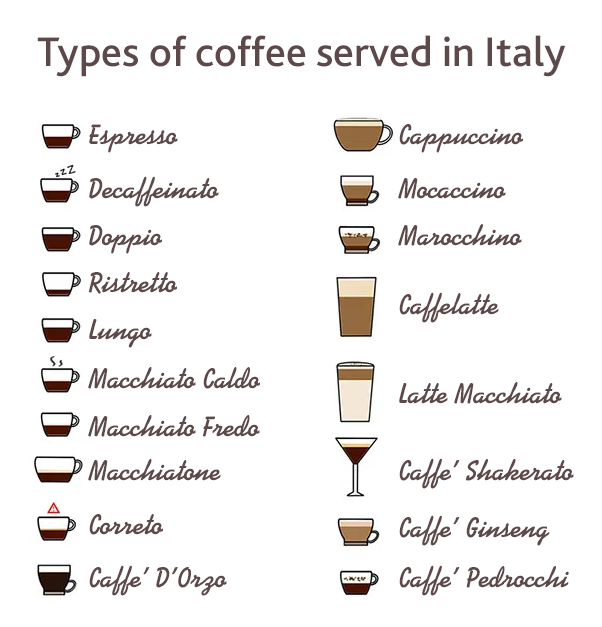 How do Italians take coffee?
Most of this beverage from Italy is prepared to be brewed as espresso. Remember, each of these beverages in Italy is a blend of Robusta and Arabica. For this reason, most Italians take espresso-based drinks. 
When you want to drink your coffee like an Italian would remember that:
Many Italians take this beverage thrice daily, which is in the morning, afternoon break, and during lunch hours.
There are no supersize portions. Each beverage has its exact cup or glass.
Italians can take Macchiatos and Espressos any time of the day.
The ordinary barista's age in Italy is 48 years old.
Conclusion
All and all, Italy is a very beautiful and amazing country, with rich traditions and passionate values, one of such is their dedication to making only the best coffee. So if you also want to experience the majestic, rich taste and heavenly aroma, then there is no better option than to try some of the best Italian coffee brands 2023 and dive into an unforgettable experience!
So, have you ever tried some of these Italian coffee brands? If so, what are your thoughts on them, do you have any recommendations? Feel free to share them with us in the comment section below!